Billet beetleweight gearbox - experimental
£

40.00 -

£

65.00
Sold out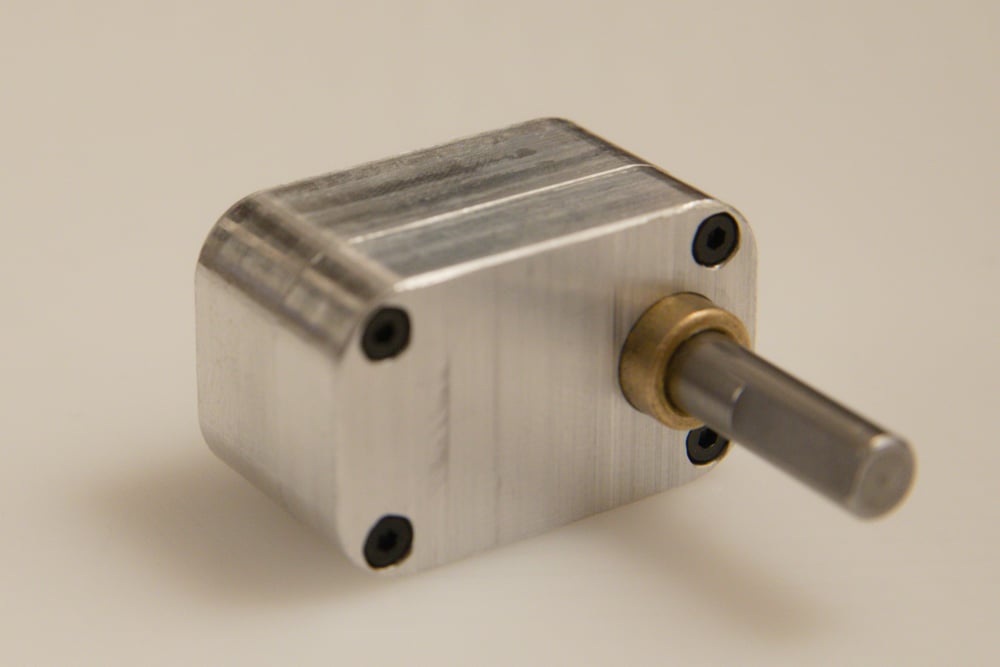 Note that this is the first batch for sale and feedback is welcomed. If you purchase a set, please try to test the gearboxes ASAP to make sure they perform to your liking. Unmodified gearboxes not used in combat can be returned for a refund.
Pretty much the most reliable gearbox you can buy for a beetleweight: billet machined from 6082T6 aluminium and with a 6mm output shaft without a circlip groove, for maximum strength - much tougher than the typical 4mm shafts used in most beetleweight gearboxes.
I've designed these gearboxes for my bot Daedalus, after the shaft of a 22mm gearbox sheared at its debut event and almost cost me the fight. These have so far taken all the abuse thrown at them with 0 failures!
All the gearboxes ship greased. Gearbox + motor packages will ship with thread locker applied to all screws - they won't require any prep work - you can use them immediately. Gearbox-only purchases ship without thread locker applied because you'll need to take them apart to install your own motor.
The optional ESCs are flashed with simonk configured with the appropriate settings for bidirectional bot drive using these gearmotors.
Specs
Reduction ratio: approximately 15:1
Output speed with a 1400KV BE1806: ~1000 RPM (3S), ~1350 RPM (4S)
Motor bolt pattern: designed to fit either BE1806 brushless motors or 130 / 180 brushed motors: 2x 16mm / 12.4mm + 2x 12mm holes
Weight (gearbox only): 35g
Weight (gearbox + BE1806): 58g
Weight (gearbox + BE1806 + Afro 20A): 72g
Case screws: 12.9 grade, M2x10/12mm
Motor screws: 1x 10.9 countersunk M2x5mm, 3x 12.9 socket cap M2x5 (a set is included with all billet gearbox purchases)
STEP and STL models of the gearbox
Sensorless startup torque
Note that low KV brushless motors in this size, such as the BE1806 1400KV, have lower torque than faster motors of the same size, which may affect the performance of the sensorless motor startup under heavy load. Therefore we don't recommend using this setup for robots with very large wheels or magbots using large amounts of downforce. However, a moderate amount of magnet downforce on my 2WD bot Daedalus is handled without issues.
Brushed drive warning
No brushed setups have been tested in combat so far. Depending on your wheel size, the relatively low gear reduction may be quite hard on high power brushed motors, which are typically quite fast.
Required tools
For the socket cap M2 screws you'll need a 1.5mm Allen key and for the M2 countersunk screw you'll need a 1.3mm Allen key. It's optional but recommended to apply a small amount of low or medium-strength thread locker to all the screws.
Modifying an off-the-shelf BE1806 motor to use with the just the gearbox option it is a slightly more complex process that requires additional tools. Watch the video below for instructions. If you're not confident in being able to do it, consider buying one of the options with a fitted motor.
The first batch is now sold out